Are you a law of attraction Elephant?
Strange question?
Yep – I know.
Let me explain.
In India -when Elephants are young they chain them to trees by their leg.
They can't escape.
They form the belief they are weak and unable to break free.
This belief imprisons them….even when they are big and strong.
So here's the point…
What beliefs do you have that imprison you?
That stops you breaking free?
Most of them-You are probably not aware of.
And you can't fix something you are not aware of.
A core module of the money magnet club is finding those beliefs clearing them out.
The results of this clearing are-more money, more happiness, more love.
Simple as that.
All the best
Peter.
<<Go Back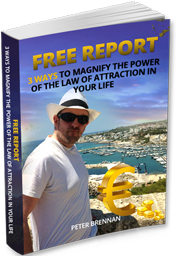 3 WAYS TO MAGNIFY THE POWER OF THE LAW OF ATTRACTION SO YOU CAN
Manifest More Money Today