Are you surviving or thriving?
In this world you are either doing one thing or the other…
Surviving or thriving.
Most people as you know are just surviving.
Living pay check to pay to pay check. Month to month.
And there's nothing wrong with that-but thriving is so much more fun. And more adventurous too. And a lot less stress.
Here's the interesting bit though…
Most people are just surviving because that is all they learned from the parents.
I was the same. My Dad would struggle to keep his business afloat and feed us and God bless him for doing that. But it thought me business was about surviving-not thriving.
Years later-after a ton of struggle-I changed what I learned.
I learned to be a money magnet.
You can learn to thrive and become a money magnet too.
You can simply learn to live a different way…an abundant way.
To your success
<<Go Back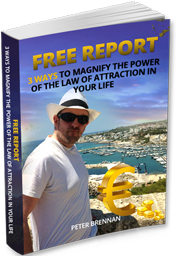 3 WAYS TO MAGNIFY THE POWER OF THE LAW OF ATTRACTION SO YOU CAN
Manifest More Money Today